Services
BRL provide various logistic services as per the needs and demands of the clients. Our main activities are transportation of goods in normal Trucks, Import & Export Containers of 20 and 40 feet on Flat Trucks and Trailers, ODC consignments and Break-bulk Cargos on Trailers, Liquid Products in M.S. & S.S. Tankers, Bulk Bitumen in Tankers
We also provide the following Equipment services on rental basis.
Trailers for carrying Project Machinery from 100 – 150 MT Capacity.


PC200 (L&T Komatsu) Excavators.


MEG Tankers, ODC Trailers, containers.


We also now own Warehousing and Storage facilities.
Transportation We cover the entire activity which includes transportation of goods in normal trucks, liquid products in M.S. & SS tankers. We also transport 40' & 20' containers on flat trucks & trailers.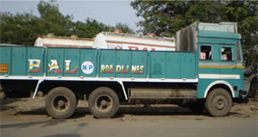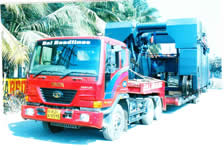 ODC (Over Dimensional Cargo): We undertake ODC movement through our specially designed long trailers capable of carrying heavy and long loads. We partner with our client right from Project planning to erection and commissioning.
Warehousing
We offer customized warehousing solutions to our clients. We have acquired 2 RCC/ACC/SHEDS warehouses one at Kalamboli & another at Panvel (near from JNPT). These strategically located warehouses facilitate quick and economical movement.